HOW TEETH WHITENING LEADS TO INCREASED TREATMENT & PATIENT SATISFACTION
One of the best ways to connect with others is still as simple as flashing a smile. Is it any wonder then that teeth whitening is the most commonly requested dental procedure, and a rapidly growing industry with $1.4 billion in sales per year? While the revenue benefits of professional teeth whitening are obvious for your practice, the emotional returns are just as valuable, and should not be overlooked; patients who are concerned about the beauty of their smiles are better patients! They tend to seek additional treatments and are actively committed to maintaining their oral health.
Now, you might be thinking, great, but how do I discuss this with my patients?  Approaching the topic of whitening with patients can feel intimidating and potentially awkward, but it doesn't have to be! As a dental professional, whitening should be viewed as another opportunity to connect with your patients. If you have ever felt uncomfortable selling whitening in your practice, consider starting the conversation by introducing shade assessments, or showcasing whitened teeth before and after's, during hygiene visits. Just like X-rays and perio chart assessments, performing a shade assessment and helping them to visualize potential results is a powerful tool that allows you to monitor the health of their teeth over time. It gives you the opportunity to help patients understand how whitening works and how their lifestyle may affect their tooth shade. It allows your patients to share their thoughts and questions about whitening, and for you to provide your professional feedback in an open discussion that feels natural and educational.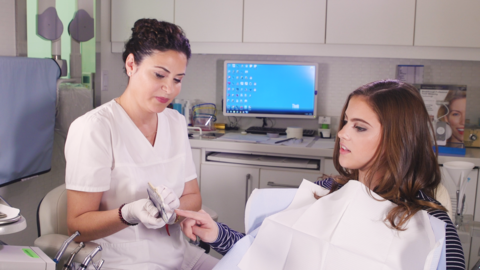 Taking a proper whitening shade on every patient in every hygiene appointment increases communication between patients and hygienists, and makes patients excited to improve their smiles through both in-person and at-home teeth whitening procedures.
Read the Dentaltown article to learn more about the science and benefits of teeth whitening, as well as how to choose the professional whitening products/system that is best for your practice. Then get the conversation started with your patients using GLO's Motivational Shade Taking technique.