GLO RELEASES THE PROFESSIONAL AUTOCLAVABLE MOUTHPIECE
GLO is constantly looking for ways to make people smile more by making teeth whitening less painful and easier for the patient and practice alike. That's why GLO is thrilled to announce the release of its innovative new autoclavable mouthpiece for use in dental practices, which helps streamline chairside teeth whitening treatments.
The new mouthpiece is fully autoclavable, and features the same patented heat and light acceleration technology as the original PRO mouthpiece. As a result, dental practices no longer need to provide each patient with a new mouthpiece, nor rely on cumbersome and time-consuming cold-sterilization techniques.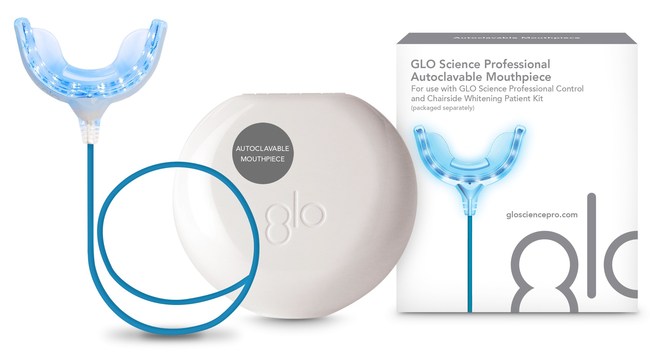 "We see this as a real breakthrough for in-office whitening," said Tom Moscato, Senior VP of Sales at GLO Science. "Whitening treatments can now be faster and easier than ever before, and GLO Chairside Whitening becomes truly seamless for the dental practice. The new autoclavable mouthpiece saves practices time and money, while providing an optimal whitening experience for patients."
Dental professionals can easily sterilize the mouthpiece in the office autoclave machine, so a fresh mouthpiece is always ready for the next whitening patient. Patient and practice feedback has been enthusiastic, with patients lauding the GLO whitening experience and results, and dental practitioners welcoming the upgrade.
The mouthpiece has been tested to exceed 25 autoclave cycles at 18 minutes each and 134 degrees Celsius. Its reusability only enhances GLO's Chairside Teeth Whitening offer, enabling GLO to continue delivering superior results, without rebound, and in shorter treatment sessions.
Hygienist-approved and patient-preferred, GLO Professional Whitening utilizes specially formulated, professional-strength whitening gel in office so patients can achieve maximum results in only 32 minutes of whitening (45 minutes total chair time).  For more information, visit glosciencepro.com or click here.
Read the full press release here!